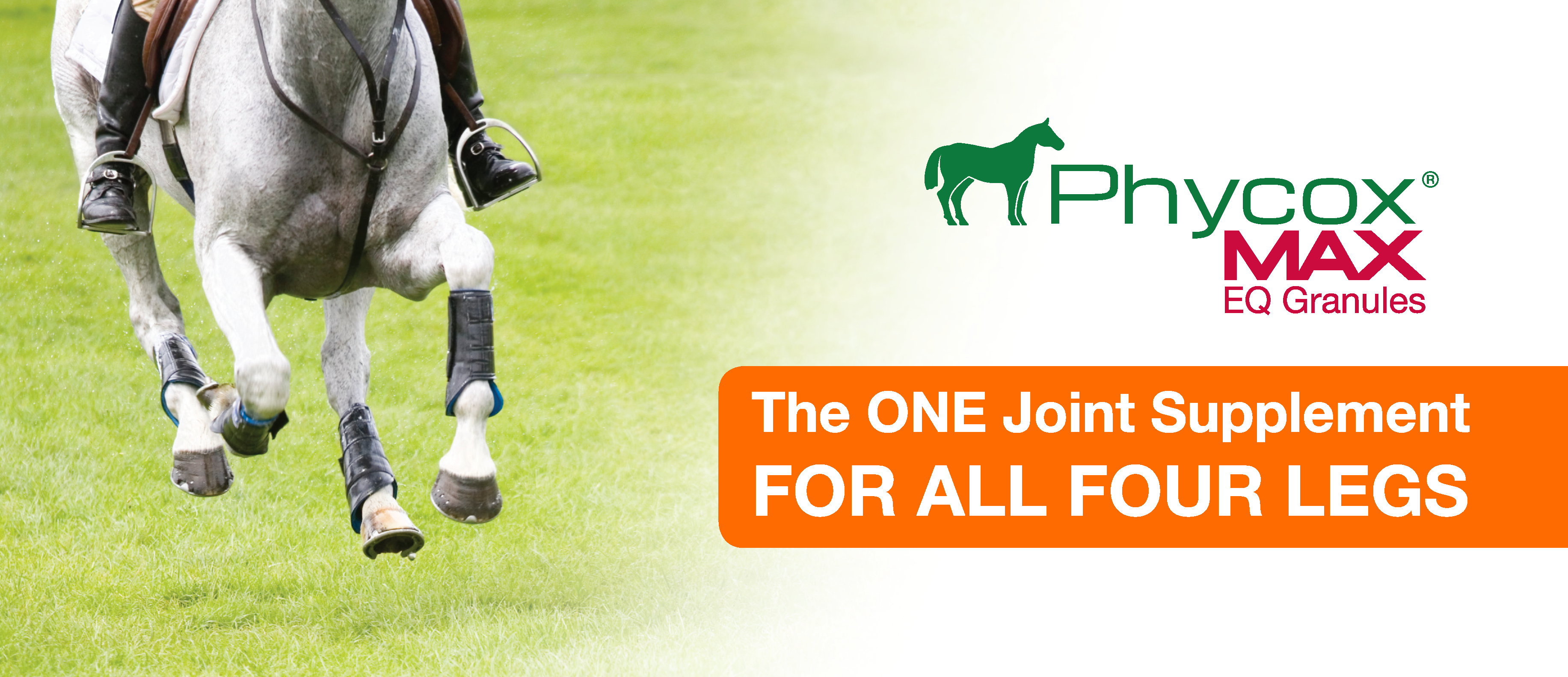 Joint Health Support Made Easy
Dogs and horses have a diverse range of joint support needs at different stages in their lives. Phycox offers a complete line of joint support formulations to meet the varied needs of your canine and equine companions.
As pets live longer, they display many signs of aging — including joint discomfort. There are numerous joint products available but many pet owners these days are interested in alternative methods of supporting normal joint function.
That's why we developed the family of high-quality Phycox joint supplements.
Veterinarians and pet owners have trusted the Phycox brand as an oral supplement that offers pet owners a clear option for the health of their dogs. Phycox is a complete formula that helps maintain healthy cartilage and joint mobility in dogs, young and old. As joint discomfort decreases, many dogs become more playful — your clients will see the difference in their dog.
Phycox is the convenient choice for veterinarians, pets and pet owners.
The Complete Phycox Line of Nutritional Joint Supplements
Phycox Soft Chews
The original formula is recommended for active dogs and dogs of all ages who require a moderate level of joint support.
Phycox MAX Soft Chews
Recommended for sporting and working dogs, and dogs of all ages who require a maximum level of joint support. Phycox MAX chews contain 3X the phycocyanin as compared to Phycox original formula, and six additional ingredients to aid in senior health and advanced joint support.
Phycox HypoAllergenic Soft Chews
Developed for dogs with food sensitivities or intolerances. Phycox HA chews use hydrolyzed vegetable protein from soybeans and do not contain beef, chicken, or wheat. Hydrolyzed proteins are small molecules which are less likely to stimulate an allergic response. If your dog has a food sensitivity or intolerance, discuss the Phycox HA ingredients with your veterinarian before offering them to your dog.
Phycox HypoAllergenic MAX Soft Chews
Phycox HA MAX chews contain the same Hydrolyzed Vegetable Protein as Phycox HA, in addition to six more ingredients and 3X the phycocyanin for maximum support of joint health.
Phycox Small Bites
Developed for dogs under 30 pounds or for dogs who may not be able to eat the larger Phycox Soft Chews. Small bites are available in the Original Formulation, Max and HA.
Phycox Granules
Developed as an alternative way to administer Phycox.